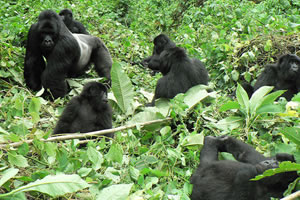 Rwanda is a landlocked country in the Great Rift Valley of Central Africa, where the African Great Lakes region and Southeast Africa converge. Located a few degrees south of the Equator, Rwanda is bordered by Uganda, Tanzania, Burundi, and the Democratic Republic of the Congo.
Known as the land of a thousand hills, Rwanda's stunning scenery and warm, friendly people offer unique experiences and one of the most remarkable countries in the world. It is blessed with extraordinary biodiversity, with incredible wildlife living throughout its volcanoes, montane rain forest and sweeping plains.
This Rwanda safari rewards you with an all-around educational and enriching experience of this beautiful country. Apart from gorilla trekking tours in their habitat home, you also track chimpanzees, golden monkeys and see the big five. Emphasis here is in three national parks that is volcanoes national park, Nyungwe national park and Akagera national park. This safari gives the opportunity to even qualify for the 30% discount which is on-going in Rwanda.
Volcanoes National Park is named after the chain of dormant volcanoes making up the Virunga Massif: Karisimbi – the highest at 4,507m, Bisoke with its verdant Crater Lake, Sabyinyo, Gahinga and Muhabura. While in this park, these features are a must see.
Tracking endangered mountain gorillas through the mysterious intimacy of the rain forest, alive with the calls of 200 species of colourful birds and chattering of the rare golden monkey, is only one of the truly unique experiences in the area. The permit goes for$1500 and you have to book in advance to avoid missing since its limited to 80 persons a day. Only persons above the age of 15 are allowed to go trekking.
Encounters with gorillas as they go about their daily lives are carefully managed, with expert trackers and guides leading small groups of tourists up bamboo-covered slopes to spend a precious and awe-inspiring hour just a few feet away from the gentle creatures.it involves waking up very early for a briefing at the headquarter It takes between 30mins to hours to locate these apes and once located, you are allowed to spend one hour with them. Don't forget to pick your trek certificate from the headquarter after the trek.
Guess what! Golden monkeys are just with in volcanoes national park then why miss enjoying these stubborn creatures? The Golden Monkey trek is one of the least strenuous activities in Volcanoes National Park. The monkeys live at the bottom of the mountain range in the bamboo forest and terrain here is relatively flat and easy to trek. They have a striking golden fur coat, and added to their sprightly character are quite lovely to watch and offer excellent photography.