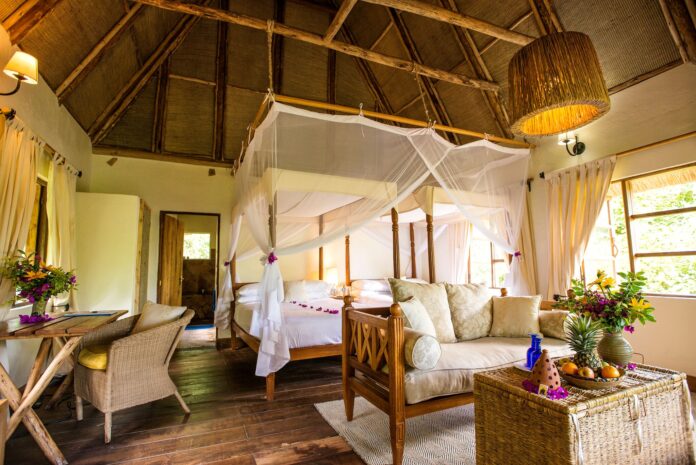 Akagera National Park is a hidden gem in Africa and its extraordinary recovery over the past two decades is an inspiring story. Just two to three hours' drive from Kigali, Akagera National Park is situated in the eastern province of Rwanda bordering Tanzania. Akagera is the only protected area offering traditional Big Five safaris in Rwanda. It boasts good wildlife opportunities, although not on quite the same scale as other iconic East African parks. Unlike the densely forested protected areas elsewhere in the country, Akagera is a typical savannah park dominated by sprawling grasslands and broken woodland.
It is a refuge for elephant, buffalo, giraffe, tsessebe, impala and Defassa water buck, while large populations of hippo and the elusive sitatungas – a rare aquatic antelope – thrive in the well-watered eastern sector of the reserve.
The park had a troubled recent history as thousands of returning refugees moved in following the genocide, causing the government to halve the park's size, allowing the people to stay but protecting the wildlife in the remaining 1120km2. In 2010, the government partnered with conservation organization African Parks to manage Akagera and the park has flourished.
Lions and rhinos were trans- located here in 2015 and 2017, making it a Big Five destination, and the Kilala Plains to the north can teem with game. Akagera's amazingly diverse landscapes – with mountains, lakes, swamps and open savannah – attract around 500 bird species, including the rare shoebill and crested crane.
A safari in Akagera National Park normally starts with the driver vehicle pick up the tourist from his/her hotel or place of stay around 5/5.30 am and reaches the park by around 8/8.30am. A trip around the park takes around 4-6 hours, depending on the agreement with the tour operator/guide/driver.
Since the park is now free of poaching, wildlife densities are increasing, and animals are less skittish. On my most recent visit, I managed to see all of the Big Five during a five-night stay. I saw white rhino from afar, and a curious black rhino walked straight past our vehicle. Leopards are regularly seen on night drives, but while on a boat trip i spotted one sitting in a tree.
As is always the case on safari, you never know what you'll see where. The Big Five aside, you can also be able to see zebras, giraffes, water buck, Oribi and big herds of Topi. The fabulous setting for all this is a labyrinth of papyrus-fringed lakes with a backdrop of rolling hills. Stunning! You'll really appreciate the park's scenic beauty on a boat trip. On the water, you will be able to see crocodiles and hippos, and the birdlife is phenomenal. There is even a chance of seeing shoebill.
Aside from the relatively large Akagera Game Lodge near the entrance, several tented camps deeper in the park offer more of a bush experience. Magashi Camp in the northeastern corner of the park operates on a private concession, and a stay here is on a par with what you can expect in the top private game reserves in southern Africa.
Magashi Camp has superb staff, highly competent management, a magnificent camp with extraordinary tents, exceptional views and nights spends with the sounds of Africa along with hippo grunts right besides, ability to off-road in the concession along with night safaris, boat safaris that are unrivaled in ease and ability to view game in large numbers on the banks of the river along with seamless ability to switch from vehicle to boat and have the vehicle meet you later, the list goes on and on.
The Camp is really nice luxury tenting with hot water, clean bathrooms, nice decor, comfortable bed, and beautiful decks and raised walkways overlooking the hippo filled lake.
Akagera is a unique and special place, with so much to offer. It is definitely, absolutely worth a visit!
Does Akagera boast the big cat populations of the Kruger or the Mara? No. But if you get lucky and see a lion, you just might get the sighting completely to yourself, unlike in the Kruger or the Mara.
Are you guaranteed to see "the big 5" (an archaic measurement, in my opinion, for game park "success")? Akagera offers beautiful landscapes, solitude unmatched by most other game parks, hundreds of bird species, and heaps of other animals.
So, I have some suggestions
1) Do game drive early in the day.
2) Don't do the Cannonball Run tour from Kigali (aka the trip starting from and returning to Kigali in the same day). Trying to spot wildlife in a hot, sunny climate between 10am and 3pm is not a great strategy for success compared to night and morning game drives.
3) Do stay a night or two. Accommodation options range from camping to a luxury lodge, so there should be something for everyone.
4) Don't expect to see lions (and please don't ask everyone where they are). "Where are the lions?" and "Have you seen any lions?" Akagera has a relatively small lion population, so if you want lions, go to a zoo (or maybe the Mara). Secondly, there are so many awesome animals to see, and if you're only looking for lions, you'll ignore countless other fascinating species.
5) Do be patient. Our best leopard sighting–where we watched a male for 20 minutes, all to ourselves–came when we were sitting by the dam bird watching, with the engine off.
6) Don't speed around. In addition to possibly endangering the very wildlife you're hoping to see, racing through the park is a great way to miss a lot (like the tree hyrax that looks like a knot in the tree).
7) Do take a good camera and/or good pair of binoculars.
8) Don't ignore the birds. Akagera has spectacular birding, and it's how we saw our most "kills" (e.g., a lilac breasted roller killing a tiny turtle, a martial eagle eating a dwarf mongoose, a hamerkop choking down a frog, a marabou stork catching a fish, etc.).
9) Do talk to the guides at reception and ask what sightings they've had, where they recommend driving, if there are any road closures (during rainy season), etc. They are knowledgeable, helpful, and friendly. (Also, do share your sightings with them; they will delight at your enjoyment of the park).
10) Do have a great time.