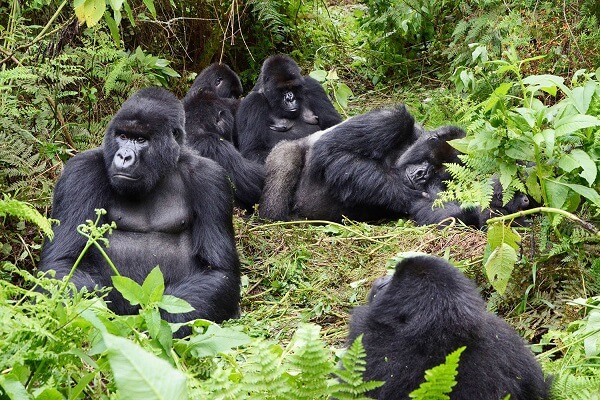 Are you a true gorilla lover and you are a low-earner yet you want to go for a gorilla safari? Democratic Republic of Congo has affordable gorilla tours that even a low-earner can easily afford.
Congo has been closed from hosting gorilla safaris but good news is that with effect from 15th.February.2019, all gorilla trekking destinations in Democratic Republic of Congo will be given a green light to host gorilla safaris again.
Most of the gorilla lovers lost hope of viewing the gorillas following the closure of gorilla trekking national parks in Congo and yet the other gorilla trekking countries the activity is so expensive as compared to Congo's.
Democratic Republic of Congo's gorilla permit is much cheaper than all the other two countries, Rwanda and Uganda, which are also known for keeping the rare endangered mountain gorillas.
Only these three African countries are where a gorilla lover can go and trek the rare endangered mountain gorillas. However, if you really want an affordable gorilla tour then you are highly emphasized opt for Congo gorilla safaris.
Bookings can be done for you by a local tour company of your choice, such as Eco Tours Congo which are some of the most reliable and definitely the best companies to organize exceptional gorilla safaris all over Africa.
Congo gorilla safaris are very cheap right from the gorilla permit which costs only US$ 400, which is quite an affordable price to all gorilla lovers compared to Rwanda's permit which costs US$ 1500 and Uganda's which also costs US$ 600.
The unbeatable price for the gorilla permit in Congo makes gorilla tours in Congo more affordable and interesting, and hence low-earners can also get an opportunity to enjoy this lifetime experience of gorilla trekking.
Whether you are going for a luxury or budget gorilla safari, expect to get more than the money you will pay for the entire gorilla safari in Congo.
For a more affordable Congo gorilla tour, you can choose to go for a budget gorilla safari if at all the money you have is not enough to do the luxury safari.
However though you go on a budget safari, the company will ensure that you get an exceptional safari through providing you with good quality facilities to use during your gorilla safari, for example; providing you with good safari vehicles like Rav4, safari vans, and super custom, among others.
In need of a driver, Eco Tours Congo and Eco Tours Rwanda have professional and experienced driver-guides who have a savvy at least in every African country, including Congo, and hence you will be enjoying interesting stories about each country that you will be in.
Your chosen tour company will also make sure that it books for you a good budget accommodation in any of the gorilla trekking national parks in Congo that you will have decided to go for the activity.
Most of the gorilla lovers love trekking the rare endangered mountain gorillas than any other gorilla type.
The mountain gorillas in Congo can only be found in Africa's oldest national park, VIRUNGA NATIONAL PARK, which is found in the eastern parts of Congo. The Park comprises of 8 habituated gorilla families which trekkers can see.
Gorillas are trekked in groups of 8 individuals per trekking group and guests are allowed to spend only one hour with the primates.
For a complete gorilla tour in Congo, you can also prolong and end your gorilla safari in KAHUZI-BIEGA NATIONAL PARK, which is also found in eastern Congo, for the trekking of eastern lowland gorillas hence leaving Congo with a superb experience.