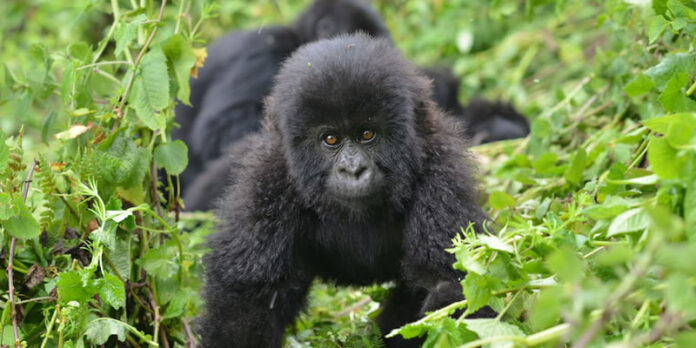 Gorillas are very unique attractions to explore when compared with other attractions; the main interest of visitors to Rwanda was the shy endangered Mountain gorillas before some un influential factors appeared.
Rwanda is located in the Eastern part of the African continent bordering Uganda in the North, Tanzania in the East, and Democratic Republic of Congo in the West and Burundi in the South.
It has several destinations to go located in its different corners with Volcanoes National Park being its major touristic place you should not miss out once in your gorilla safari Vacation.
Volcanoes National Park is Rwanda's most known commonly known for the shy endangered Mountain Gorillas in the mist, it is located in the North Western part of Rwanda characterized with tropical rain forest and bamboo forest where Mountain Gorillas and Golden Monkeys are residents.
In the past years gorilla trekking was at a high rate in Rwanda but currently it is appearing on high diminishing rate constantly due to the factors listed below,
Increase in Prices of Gorilla trekking Permit
In the past years gorilla trekking in Rwanda was at a high rate when compared to that of Uganda and Democratic Republic of Congo because Volcanoes National Park where these gorillas are found is located not very far from Kigali which takes about 2-3 hours to drive up to this destination.
But in 2017 Rwanda development board increased the prices of gorilla permits from $750 USD up to $1500 USD per person which doubled the prices and this seemed to be expensive to most of the clients thus limiting them from doing the trekking activity, in simple terms Gorilla trekking in Rwanda was termed to be luxurious when compared to that of Uganda and Democratic Republic of Congo.
Availability of Varieties in Uganda
Most of the visitors to the shy endangered Mountain gorillas prefer seeing variety which is not the case to Rwanda, Uganda is ranked to be hosting the most part of the World's gorilla population in its two major national parks with Bwindi impenetrable national Park dominating therefore most of the visitors prefer visiting Uganda's Bwindi Impenetrable Forest National Park for varieties of different Gorilla species than Volcanoes National Park of Rwanda which has a few species in its habitats.
Ease of Crossing Borders
These three Countries named Uganda, Rwanda and Kenya are under East African Community which makes it easier to cross borders from one country to another using the East African Visa.
Trekking Gorillas in Uganda when you have landed in Rwanda at Kigali airport is now very easier since Bwindi Impenetrable and Mgahinga Gorilla National Park are near which relieves you from the expensive Rwanda gorilla trekking.
Golden Monkey tracking option
After most of the Clients or Visitors to Rwanda getting noticed that Rwanda' Gorilla trekking is expensive after a tentative increase in prices of Permits they decided to take Golden Monkey tracking as their best alternative if not Gorilla trekking since these Golden Monkeys are permanent residents in Volcanoes National Park mostly in parts covered with Bamboo forests.
Cheap Gorilla Trekking Permits in Uganda & DR Congo
Rwanda development board increased prices of their Gorilla trekking permits from $750 USD up to $1500 USD per person not knowing that permits in Uganda and Democratic Republic of Congo are still at low prices of $600 USD and $400 USD per person respectively, now most visitors interested in Gorillas are phasing out Rwanda resorting to Uganda and Democratic Republic of Congo which are cost efficient such that they can meet their costs.