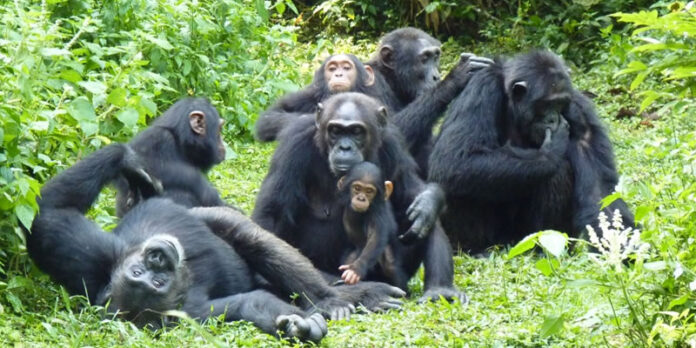 Enjoy primate safaris in Uganda and DR Congo which are more appropriate and this has attracted many visitors to come for them in their natural habitat and this is more interesting activity to add on your tour to the Pearl of Africa.
Chimpanzee habituation involves making wild primates get used to having human beings around and preparing them to be tracked later on.
This activity can be done for both Chimps and Gorillas and it takes close to 3 years to be completed and therefore chimpanzee habituation in Uganda is mostly done from Kibale Forest National Park.
The park has got over 1500 chimpanzees that live in the Kibale National Park alone, Kibale forest national park is found in districts of Kabarole and this is the only place in Uganda where Chimpanzee Habituation is done.
Chimpanzee habituation requires one to obtain a permit before the activity which costs $220 per person per days for non-foreign residents and for foreign residents, a permit costs $150.
Unlike chimpanzee tracking, visitors to Kibale Forest National Park for habituation experience enjoy the activity for a full day and this enables you to enjoy the characteristic of the chimps as they play around within the family
On the day for Chimpanzee habituation, visitors are required to reach the park in the early morning for briefing, get your lunch packed and head out to meet your guide that will lead you into the forest.
The maximum number of people who are required for chimpanzee habituation per trek is 4 people per group inclusive of the researchers and guides. Ranger will lead you where these chimps spent their night from and are.
If you are lucky and awoke early, you are sure to find them just getting up. Thus, a typical Chimpanzee habituation begins in the hours at dawn between 6-6:30 am.
In the presence of the chimps, you will witness them copulating, breastfeeding the little ones, feeding, patrolling, hunting, resting and by 7 pm they will build their nests from where they will spend their night.
Spending an entire day with the chimps, from locating them via their pant hoots in the morning to them nesting at night become a nice stunning experience.
From here you can also travel to Democratic Republic of Congo which is a closer country to Uganda in west and the best way to reach Congo is from Goma through, Chimpanzee habituation in Congo is done from Tonga forest a forest within Virunga national park and the activity starts from Mikeno Lodge.
Habituation experience here in the park started in 2014 by the Frankfurt Zoological Society around Rumangabo, tourists and other visitors staying at Mikeno Lodge can join the habituating team on their daily visits to the chimpanzees.
Chimpanzee habituation in Congo is also done early in the morning at around 6am since the park ranger's wake early in 4:30am to locate the chimps and here only 8people are recommended for the experience and this is the most interesting activity.
Visitors will go through the forest to enjoy the experience and this will give you the opportunity to take photos with the chimps. This is best done by Nature Adventure Africa Safaris Limited