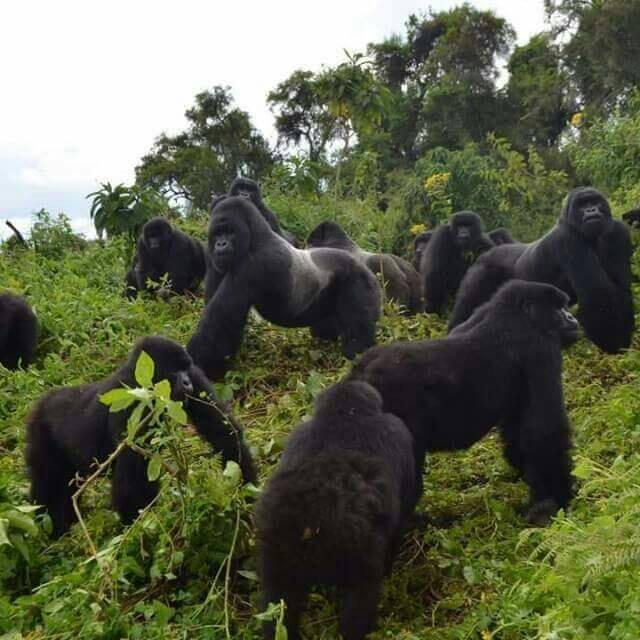 Are you looking for a discounted gorilla safari holiday in Rwanda? Traveling in the low season is a brilliant way to get more for your money. If you can be flexible with the time of year that you travel, you will be in a position to take advantage of some very generous low rates offered by many safari lodges. Going on an African gorilla safari is one of life's last greatest adventures. That first African safari is a truly life-changing event that can never be recaptured, although many of us spend much our lives trying to regain that level of magic and excitement.
Rwanda has one park in the North of the country encompassing its share of the mountain gorilla population in Volcanoes National Park. The park covers an area of about 46 sq. miles and encompasses six volcanoes.  Despite the terrible genocide in the early 1990's the country is fairly stable and the park permit system is running smoothly. With only 880 mountain gorillas left in the world, seeing them in the wild is something only a few visitors will ever have the chance to experience. About 480 mountain gorillas inhabit an extinct volcanic region called the Virunga massif along the borders of Rwanda, Uganda and the Democratic Republic of Congo. The other 400 mountain gorillas inhabit Bwindi Impenetrable Forest National Park in Uganda.
In Rwanda, special discounted rates run from the months of November to May 30% discount ($1050) for combined trips within National Parks in Rwanda (Volcanoes, Akagera and Nyungwe National Park) for at least 3 days during the months of November to May.
15% discount ($1,275) on conference delegates who stay pre and post MICE events to see gorillas.
The $1500 USD is applicable to all visitors. There are however, some new packages that have been introduced: these include;
$15,000 for personalized and exclusive mountain gorilla visits for a requested targeted gorilla family.
$30,000 for a minimum of visitors for 3 consecutive days (Behind the scenes)
With these discounted special rates, Gorilla Safaris Tours combines Akagera, Nyungwe and Volcanoes National Parks to offer a great safari element. Rwanda has two distinct wildlife reserves of distinction: Nyungwe National Park in the south west and Akagera National Park in the east. Rwanda's most famous wild inhabitants live not far in Volcanoes National Park. This is the best location for tracking the endangered mountain gorillas. Spotting these magnificent animals in their natural environment creatures in their natural environment is an unforgettable experience, while other park highlights include the golden monkeys and the tomb famous gorilla research Dian Fossey.
Gorilla Safaris Tours offer tours in Rwanda's Nyungwe National Park one of the world's most beautiful and pristine mountain rain forest. Nyungwe is home to a huge range of tree dwellers, including 12 types of primates. These include Chimpanzees, vervet monkeys, black and white monkeys, L'Hoest monkeys, red-tailed moneys, golden monkeys and three types of bush baby.  Nyungwe has over 100 species of butterflies and over 300 species of birds species have been recorded here, including 16 endemics while the forest's arboreal landscape include beautiful waterfalls, dense canopies and stunning mist- shrouded valleys. The Canopy walkway, part of the Igishigishigi Trail, is high suspension bridge with views over the valley and surrounding forests. It allows tourists to see to view different animal species in Nyungwe Forest. The dizzying platform is above a steep and deep valley stretching across the massive forest.
Chimpanzee tracking is available and there are two habituated to human contact. Chimpanzee tracking starts early in the morning with a short briefing about the chimps, there will be a maximum of over 8 people in your group that sets out to track the chimpanzees. The experience opens you to rich encounter with impressive bird species, the remarkable flora and magical sceneries including the waterfalls. The moment with these creatures, you get to spend one full hour as you observe play, eat, feed, jumping of trees and making pant hooting calls. The cost of Rwanda chimpanzee permit costs $90 per person.
A visit to Rwanda's Akagera National Park is home to central Africa's largest protected wetland as it also is home to many large plains game species as well as species restricted to the papyrus swamps such as the Sitatunga and the sought after shoe bill stock. Notable plains game include elephants, buffaloes, Topi, zebra, water buck, roan antelope, eland, black rhinos and lions. Akagera National Park offers game drives, birding, boat trips and fishing.