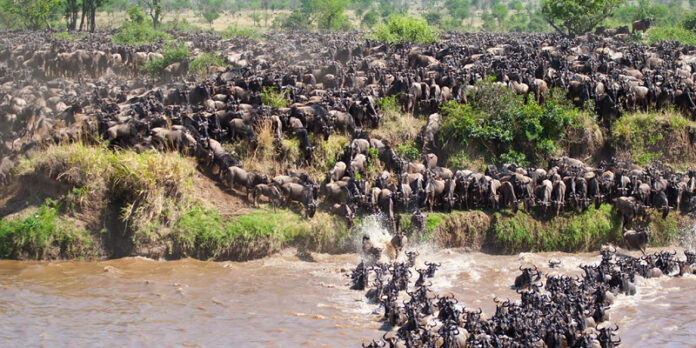 Tourism industry in Africa is growing day by day due to the better conservation of natural resources in Africa plus generating enough security in African parks to eliminate wildlife poachers thus the number of wildlife in the parks increasing each day passing hence attracting a number of tourists from various countries to go in Africa and view these protected wildlife species in the African Parks.
Some of the best countries for African wildlife tours that you should not miss, include; Kenya and Rwanda due to their exceptional and distinct Parks.
A tourist can get a discounted tour in Kenya and Rwanda gorilla tours especially when he or she visits two or more Parks in Rwanda. When a tourist is to visit Rwanda's mountain gorillas, he or she will be given a discount on the gorilla permit.
Rwanda's gorilla permit costs US$ 1500 but if a tourist is to visit all Rwanda's three national parks or at least two of them (Volcanoes National Park , Nyungwe Forest National Park and Akagera National Park), a tourist will then be given a discount of US$ 450 thus paying US$ 1050 for the permit or even when a tourist is to held a conference or seminar in Rwanda, he or she will also be given a discount of US$ 225 thus paying US$ 1275 for the permit. Therefore, a tourist in is Rwanda will get a discounted and an affordable tour.
Volcanoes National Park is Rwanda's only Park that protects the rare mountain gorillas and it is a two and half hour drive from Rwanda's capital city (Kigali).
Roads accessing the Park are all in a favorable condition for the tourist to have a luxury tour in accessing the Park without even paying an extra cost and the roads that link to the Park are all tarmac.
Visiting Rwanda for a wildlife safari tour will absolutely be a productive tour since you will be able to view the rare endangered mountain gorillas which are only found in three countries in the whole world of which Rwanda is inclusive and other two countries protecting the rare endangered mountain gorillas are; Democratic Republic of Congo and Uganda.
Volcanoes National Park consists of 11 habituated gorilla families and still in the Park there is five volcanoes thus the Park being suitable for hikers.
The five volcanoes in the Park include; Karisimbi volcano, Bisoke volcano, Sabyinyo volcano, Gahinga volcano and Muhabura volcano.
Accommodations in the Park include; Virunga lodge, Mountain gorilla view lodge, Bisate lodge, Kwitonda lodge, Jack Hanna's guest house, Bishops house and many others.
Kenya Tours:
From viewing the rare endangered mountain gorillas in Rwanda, you can drive to Kenya to explore some of its best national parks.
Maasai Mara National Reserve is a must visit Reserve to every tourist who visits Kenya because the Reserve keeps a large quantity of the present wildlife species in the Reserve.
In the Reserve you will enjoy the migration of over 1.8 million Wildebeests, almost half of Thomson's gazelles and almost 250,000 Zebras which migrate from Serengeti National Park.
Other species seen migrating include; Topis and Elands of which this migration occurs from July to October.
The Park is also home to Lions, Elephants, Buffaloes, Rhinos, Leopards, Giraffes, Impalas, Roan antelopes, Grant's gazelles, Bat-eared foxes, Cheetahs, Hyenas among others and over 470 bird species.
Other Parks in Kenya good for safari tours include; the Amboseli National Park of which the Park is most famous for keeping the free-ranging elephants.
The Park is the best destination in the world for viewing the free-ranging elephants. Just like Maasai Mara National Reserve and Amboseli National Park is a best place to interact with the Masai people since it is situated on the Masai village and other wildlife species in the Park include; Cape buffaloes, African elephants, African lions, Cheetahs, Spotted hyenas, Impalas, Grant's Zebras, Masai giraffes, Blue wildebeests and many more.
Over 400 bird species also exist in the Park and when you are in the Park, you will be able to view the world's highest free-standing mountain (Mountain Kilimanjaro) which is found in Kenya's neighboring country ''Tanzania''.
Samburu National Reserve is also a best destination in Kenya to view Lions, Leopards, Elephants, Cape buffaloes, Cheetahs, Zebras, Giraffes, Warthogs, Impalas, Olive baboons, Kirk's dik dik, Water bucks, Crocodiles, Hippos and many others plus a view to over 350 bird species.
Ewaso Ng'iro River is also found in the Reserve and it is the best habitant for the large numbers of Crocodiles.
Kenya tours are also affordable to every tourist who wish to visit Kenya and during your Kenya tour, you can still have self drives in Kenya's capital city (Nairobi) where in the city you will give a visit to Kenya's national museum which is situated in Nairobi together with a visit to Nairobi National Park which is just 7 kilometers from the centre of Nairobi.
The park is so historical to Kenyan Republic because it was Kenya's first Park to be gazetted (in 1946) and from the park, you will see Nairobi's skyscrapers.
The park is one of Kenya's best place most successful rhino sanctuaries thus allowing tourists to access the rhinos.
The park has a huge diversity of wildlife population and one of the present species are; Eastern black rhinos, Cape buffaloes, Cheetahs, Zebras, Gazelles, Coke's hartebeests, Leopards, Hippos, East African lions, Impalas, Elands, Water bucks, Wildebeests and Masai giraffes. Ostriches and Vultures are also present in large amounts and over 500 bird species.