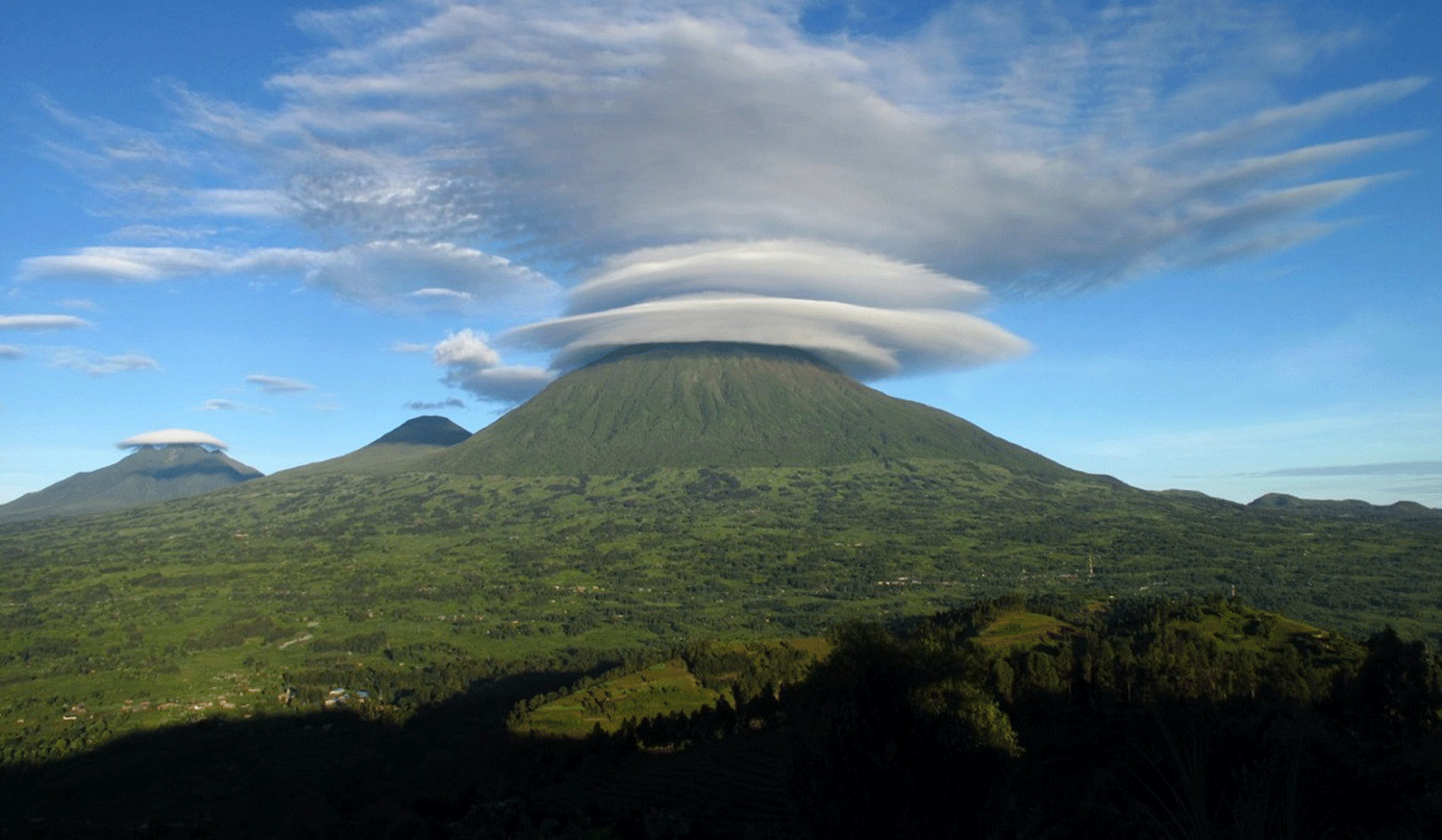 Although it is the gorillas that tend to hog the limelight, the little known Golden Monkey (Cercopithecus Kandt) is also IUCN listed as endangered with a similarly restricted range within the Albertine Rift. As such, it is a rare treat for visitors to be able to view a newly habituated group of about 15 of these delightful creatures in the Volcanoes National Park. Visits can be arranged through any RDB offices or a tour operator; they last for one hour and are for a maximum of six people. The cost is $100 USD per person including entry to the park.
Endemic to the Albertine Rift, the golden monkey is characterised by a bright orange – gold body, cheeks and tail, contrasting with its black limbs, crown and tail-end. Once quite widespread in the forest of southwest Uganda and northern Rwanda, it is now near – endemic to the Virunga volcanoes, though a small number still inhabit the degraded Gishwati Forest near Rubavu. Within its restricted range, however, it is the numerically dominant primate and reasonably common number of individuals protected with Volcanoes National Park. For more information your trek in this park visit http://www.gorillasafaristours.com/
The golden monkey tracking experience is very different from gorilla viewing, where huge creatures are entirely visible as they react and interact. The golden monkeys in their bamboo thicket are smaller, nimbler and can be harder to locate and follow, though they are a lot more relaxed these days than they were a few years back, and the quality of sightings can be superb. The benefits of this project are mutual for tourists, the pleasure of observing a rare species of monkey for researchers, the satisfaction of learning more about a little-known species and for the endangered golden monkeys, far less threat of extinction as they are studied, protected and better understood.
Mount Karisimbi hike
A two day excursion costing US$400 per person, the RDB will provide guides for all hikes but trekkers should have suitable clothing and if overnight on Karisimbi, you should bring you own camping equipment. Hikes can be booked through the RDB office in Kigali, Rubavu, Musanze or Kinigi. All hikes depart from the park headquarter at Kinigi at around 07:30, the same departure time as for gorilla tracking which means that visitors can undertake only one activity per day within the park.
Porters can be hired be hired at only 15 to 20 USD per person and those hiking with heavy bags and luggage can also hire 2 porters but the money includes per day.
Diana Fossey Hike
The Diana Fossey hike is one of the activities offered in Volcanoes National park Rwanda. The tomb is adjacent the gorilla cemetery at the former Karisoke Research Centre. This trek involves 30 minutes' drive from the park headquarters to the trail head at the village of Bisate, which lies at 2,610m close to the forest boundary. From here, assuming you stop in the village rather than continuing by car along the rutted road to the nearby cark park, the 1.7km hike to the entry point into the forest, climbing steeply in parts to 2,820m, should take around 25 minutes.
Once in the forest, a gently climbing path leads after 1km to 2,970m clearing where Dian Fossey used to take a break en-route to her camp, and most hikers emulate her example. Depending on your fitness, and how often you stop to enjoy the scenery, this should take around 20-30 minutes and it is then another 45-60 minutes to the camp itself, following a contour path that gains little in altitude. Diana Fossey's old living quarters which she nicknamed the mausoleum are now in ruins and several other landmarks in the camp are signposted. The hike offers a good opportunity to see birds and other creatures typical of the Virunga's on the way.
Mount Bisoke Hike
Volcanoes National Park offers another activity hiking to the rim of 3,711m of mount Bisoke which is topped by a beautiful crater lake. It departs from Bisate, a trail head it shares with the hike to Diana Fossey's tomb and follows the same route as far as the same resting point. The path is very steep and it gains about 650m in altitude from the resting place, so it normally takes at least 1.5 hours and might take twice as long depending on your fitness and you respond to the altitude and underfoot conditions muddy at the best of times and outright treacherous after heavy rain, when you will be sinking to your knees in the bog with every other step.