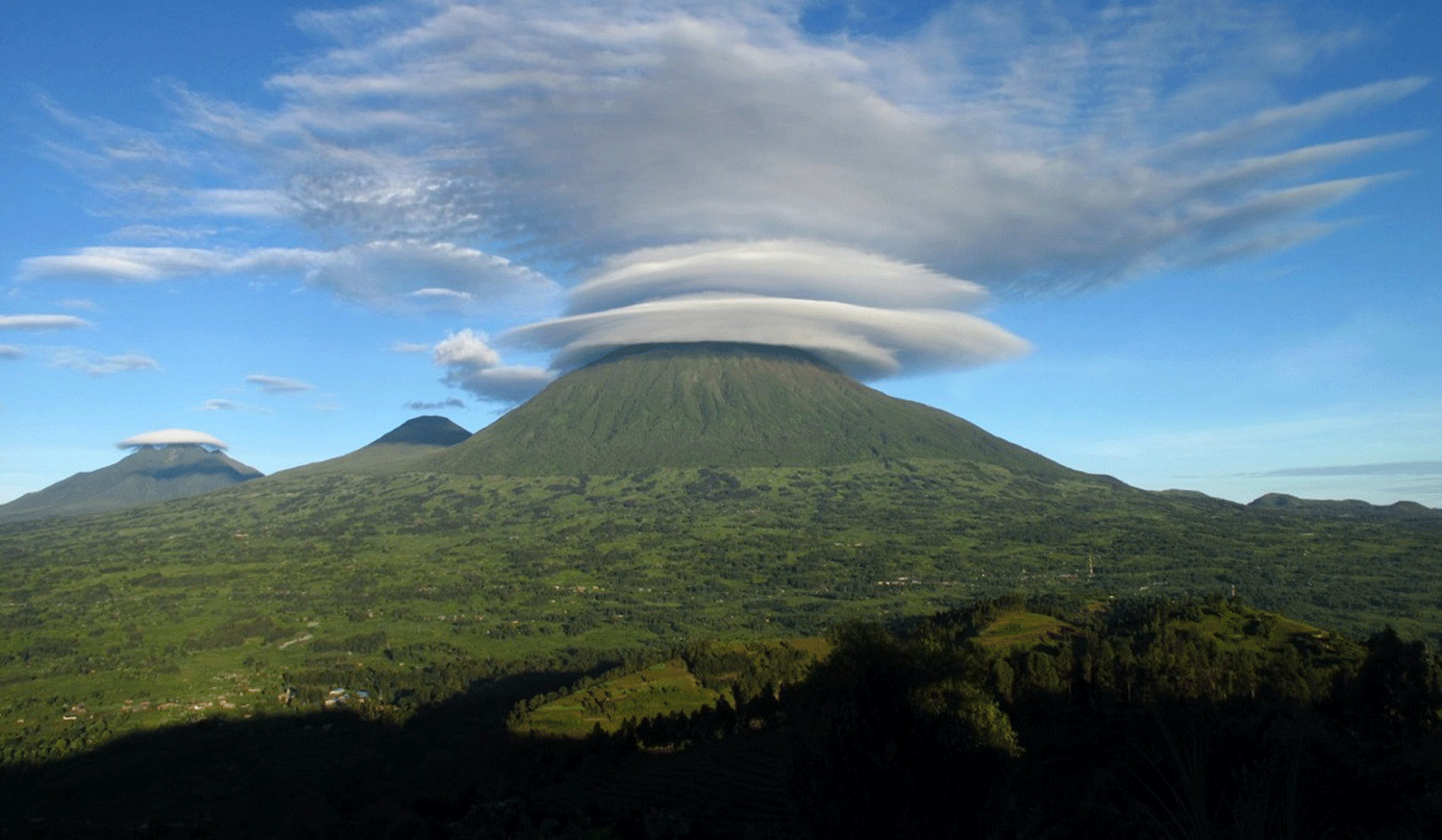 The "Parc National de Volcans" lies along the Virunga Mountains, with 8 ancient volcanoes, which are shared by Rwanda, Uganda and the Democratic Republic of Congo. Just a short two-hour drive from Rwanda's capital of Kigali, the park is a central location for exploring some distinctly Rwandan experiences.
While on your Rwanda tour a visit to the mountain gorillas is often at the top of visitor, the dramatic landscape also offers thrilling hiking and visits to the fascinating golden monkeys.
The Karisoke Research Center
Fossey's original objectives in founding Karisoke were to study gorilla ecology, demography and social organization. She found herself spending days searching for and attempting to observe these elusive animals, while encountering signs that poachers and other human intruders had preceded her. Fossey realized that to study gorilla ecology and behavior, she needed to recognize individual gorillas, which first required the gorillas to become accustomed, or habituated, to her presence.
Karisoke has now become a center for training of the next generation of conservationists and scientists in Rwanda. The Fossey Fund brings hundreds of local university students to Karisoke each year for field courses, and training in conservation and scientific methods. Karisoke also hosts important educational programming, as well as regional conservation and scientific meetings.
The Iby'Iwacu cultural village combines all of Rwanda's known cultural traditions, people and history into one place for display and a personal experience. International visitors get to see what life was in a typical African village setting the lifestyle, houses, traditional dances, dressing code, food, herbs and how the ancient kingdoms were generally organized. Tourists are given an opportunity to learn ancient hunting skills, try weaving baskets/mats, carpentry.
This unique experience has won the hearts of many visitors who wish to indulge in the culture of Rwanda's native community after visiting the capital Kigali, seeing the gorillas and hiking a mountain like Karisimbi.  It is also a great place for relaxation while offering opportunities to purchase local craft, gifts and souvenir to show friends back home.
The Dian Fossey Gorilla Fund International is dedicated to the conservation, protection and study of gorillas and their habitats in Africa. Our successful, integrated approach includes close collaboration with local governments and communities as well as partners from around the world.
The Musanze caves are one of the top tourist attractions in Musanze District. Musanze is arguably the most visited part of Rwanda because its location in one of the most naturally beautiful places in Africa. The Volcanoes National Park is found in Musanze District offering opportunities for activities like gorilla trekking, golden monkey tracking, visiting the grave of Dian Fossey Mountain Hiking and canoeing lakes like Ruhondo among many others.
The Musanze caves were significant during the ancient times as they were used by the local Kinyarwanda tribes as the venue for crowning their new kings. More recently, the caves were made famous as a shelter for thousands of refugees who had escaped the 1994 genocide in Rwanda.