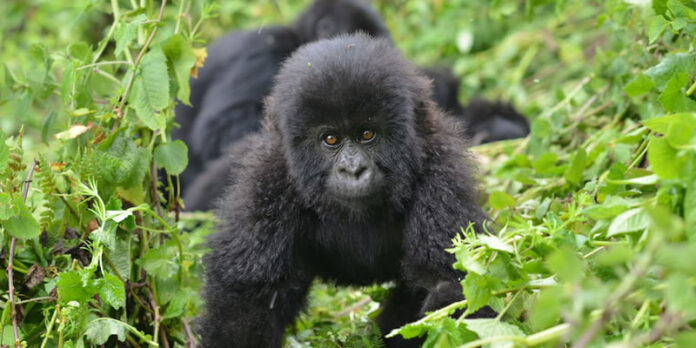 Gorilla trekking is a tourist activity in which travelers' hike through the thick tropical rain forests of Bwindi Forest National Park, Volcanoes, Mgahinga and Virunga national parks in search of the endangered mountain gorillas.
Gorilla trekking in Uganda is a once-in-a-lifetime journey to see the incredible mountain gorillas of central Africa's rain forests on the slopes of the Virunga Mountains and in Bwindi Impenetrable National Park. Travelers that have been on this Uganda safari highly rate the activity. They say no other wildlife encounter in Africa compares to the outstanding experience of spending face-to-face time with Uganda's wild gorillas in a natural setting.
Mountain gorillas cannot survive outside their natural habitat—certainly not in any zoo. They live only in two far-flung rainforest jungles in east & central Africa, specifically Uganda, Rwanda, and Democratic Republic of Congo.
Uganda is arguably the best in delivering a raw untethered jungle experience to the savvy nature lover. If you choose gorilla trekking in Uganda over Rwanda, you must be excited about getting down and dirty.
You'll find your way through the tall, tangled vines and ancient trees that carpet western Uganda's rainforest, following an expert tracker clearing the way with a fine-edged machete. Your best foot forward will be wrapped up in light waterproof boots, wearing long jungle pants and a ridiculous hat. Better pack a bag of patience and a good sense of humour to lighten the anticipation.
Rwanda is for bucket-list tickers who want the gorilla trekking adventure without getting down and dirty. The type of travelers that want to spend the evenings surrounded by luxurious amenities and high-speed Wi-Fi. They usually have the money for it.
Trekking for gorillas in mountainous rainforest often means hours of hiking on steep, narrow footpaths and walking through dense jungle behind a scout who slashes a path through the foliage with a machete. You need to be at least walking fit – the guides ensure you take plenty of breaks – and properly equipped for a tough environment. We recommend broken-in hiking boots that protect your ankles, double-layered socks (cotton inners and thick outers) plus knee-high gaiters. Please be aware that gorillas are highly susceptible to human illnesses; you will not be allowed to go on a gorilla trek if you have a cold or any other contagious illness.
Gorilla trekking is easier during the 'low rainfall' season, which runs from June to September, and the 'gentle rainfall' season from December to February. July to August is considered the least wet and coolest time of the year.