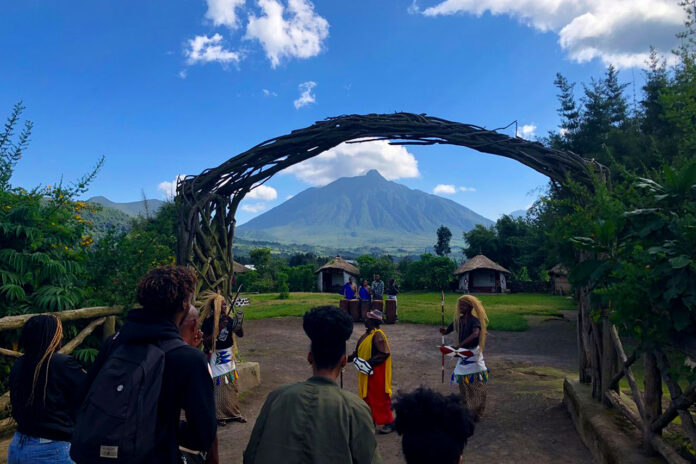 Go to the Iby'Iwacu Cultural Village which is a non-profit making organization that helps the reformed poachers. They help provide a better life through activities like providing clean water, health advisory, offer Agricultural support and also provide education facilities so the kids can acquire education. This is a unique place to visit after your gorilla safari in the Volcanoes National Park.
There are various enterprise projects that have been developed to act as a source of income to these families for example they do arts and crafts work, they engage in community tourism, they do basket weaving which they later sell to tourists to take home as souvenir.
The village is located near Volcanoes National Park and welcomes visitors to explore the local lifestyle with a variety of activities. The community directly benefits from this tourism-based initiative, improving their economy and standard of living as well as incentive for gorilla conservation.
A walk through the village; meeting a local healer or clinic to learn about medicinal trees and shrubs and their uses; visit a local school, watch how bananas are brewed into local banana and sorghum beer (and enjoy a taste), gather around the campfire, known as igitaramo, where stories told and dances performed; join the locals in harvesting and preparing food.
Go for the Azizi life experience, a social enterprise that helps foreigners to get in contact with the local people in order to learn more about Rwanda's different cultures and practices. With these people, you will have range of different experience and the more time you have to spend in this village, the more experience you get and better understand because you will walk a mile in their shoes.
Some of the activities you will engage in include the traditional way of house construction, collecting and preparing local meals, you can join the locals in the preparation of the banana juice, go drum making and dancing practices, you can also join your host family in the garden to dig, collect firewood and water, among others.
There are lots of activities that you can do but depends on how much time you have to spend with them. Azizi life experience is one of the best cultural activities that you can ever opt for while in Rwanda and be sure to have an amazing time.
There are six distinct experiences to choose from including spending the day with a lady weaving cooperative; traditional building construction; banana juice making; traditional cooking and traditional drumming and dancing.  It's a truly interactive way to learn about Rwandan culture!